Skip to end of metadata
Go to start of metadata
The Guaranteed By field is a required field for any booking to complete or be saved successfully.
It sets the Payment method for the booking and can be changed at any time.
There are three types of Payment methods: Direct Bill, Credit Cards and Other (Check, Cash, Write-off, etc.).
The Direct Bill and Credit Cards Payment method requires an extra step to complete, but all others do not and can be chosen to complete the booking quickly until updated payment information can be entered. 
The Credit Card Payment method functions in two ways depending on whether or not you are signed up for and connected to MyCard Payment Gateway (See MyCard).
If you ARE NOT connected to MyCard Payment Gateway, then the Credit Card Payments will only be managed in the system and will need to processed through an outside terminal. See Manage Credit Cards and Manage Credit Card Transactions
If you ARE connected to MyCard Payment Gateway, then the Credit Card Payments will be processed through the system when you click Settle Credit Cards in Night Audit. This will also be used for Authorizations.
Payment Type Methods

Guaranteed by Check, Cash, Unknown, Write Off, etc.

If you choose any payment method that is NOT Direct Bill or a Credit Card, you do not need to fill in any more information. Just select the payment type in Guaranteed By and click Save.
These payments types are created in your system and can be added or edited at any time in Receipt Types.
This information can be changed any time to another payment type such as credit card. Just go to to the Booking Details of the Guest and changed the Guaranteed by in the Booking Information Section.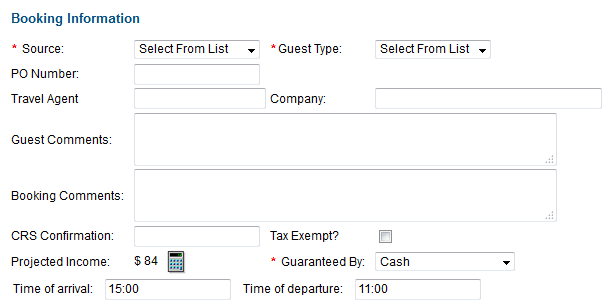 ---
Guaranteed by Direct Bill
If you choose Direct Bill, you will need to enter a company name. The company name must first be created in SETUP| RELATIONSHIPS| |COMPANIES. See Companies.

Then choose Direct Bill in the Guaranteed By drop down list.
To learn more about how the Direct Bill and AR accounts function. See Direct Bill and AR Accounts. 
Example, Guaranteed by: Direct Bill

The Direct Bill will appear in the Add Payment of the Folio as DB: (Company Name) In this Example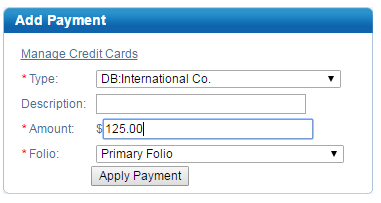 ---
Guaranteed by: Credit Card

If you choose any credit card, the Credit Card Details will automatically appear below. Enter the Details: CC # and Exp. are required. This information can be viewed an managed in Manage Credit Cards