Skip to end of metadata
Go to start of metadata
How to use Merge Fields: To create or edit any letter, go to Setup | Parameters | Letters. See Add Letters and, Customize and Edit Letters. To set up Automated Emails, see Auto Letters Setup. To start using Merge Fields: 
Open Letter: choose the Letter you want to edit by clicking on the Letter I.D. The Letter will open in an Editor 
Editor Toolbar: The toolbar at the top has many features you can use to customize your Letter including Merge fields used to place booking, financial and guest information from your records and transactions. 
BookingCenter "globe" icon: To see a list of merge fields, click on the the  in the top left corner of the editor.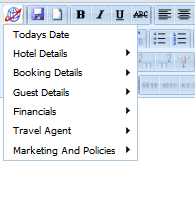 To insert the value of the merge field you want, place your cursor at the location in Letter you want it to appear. Then, click on the desired value from the merge fields list
To change or edit your Merge fields in the Letter, highlight the field and click on the BookingCenter "globe" icon in the top-left of the editor. Choose the new field from the drop down menu and it  will replace the highlighted field. 
Note:
If you insert a merge field that involves payment in the Folio, the field will appear blank if there aren't any transactions in the Folio yet.

A common request from customers is for Charges, Rents, and Payments to be seen on a confirmation.  If your business policy is to place the RENT charges on the folio at time of booking, then 'Display All Folio Items' will be the right choice.
However, if you pre-book some Charges, such as a spa or transportation charge, but let Night Audit post the RENT charges (most common), and you wish for a Guest to get a clear indication of what has been charged and will be charged, then use the 'Display All Folio Items' for the Charges posted and, in another section of your Letter, the 'Daily Rate Grid' so that 'current' charges on a folio are on one portion of the letter, and the 'projected' Rate Grid is on another portion of the letter.  This allows the Guest to see what will be charged, assuming dates and rates don't change.
---
Merge Fields available for Group Letters. See below for details on each field.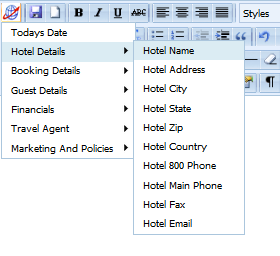 Example of Merge Fields in Letter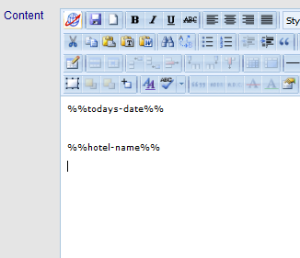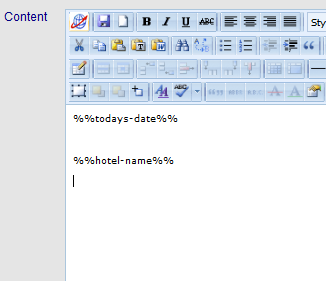 Date
| Merge Field | Identifier |
| --- | --- |
| Today's Date | %%todays-date%% |
Hotel Details
| Merge Field | Identifier |
| --- | --- |
| Hotel Name | %%hotel-name%% |
| Hotel Address | %%hotel-address1%% |
| Hotel Address2 | %%hotel-address2%% |
| Hotel City | %%hotel-city%% |
| Hotel State | %%hotel-state%% |
| Hotel Zip | %%hotel-zip%% |
| Hotel Country | %%hotel-country%% |
| Hotel 800 Phone | %%hotel-tollfree-phone%% |
| Hotel Main Phone | %%hotel-main-phone%% |
| Hotel Fax | %%hotel-main-fax%% |
| Hotel Email | %%hotel-email%% |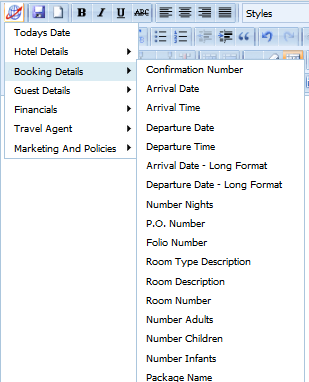 Example of Merge Fields in Letter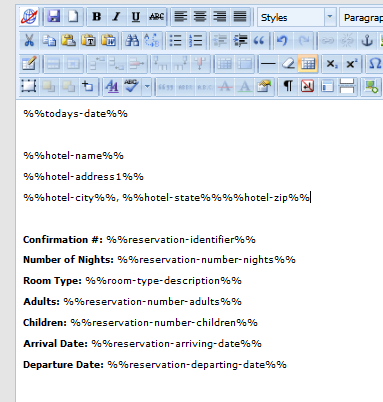 Booking Details
| Merge Field | Identifier |
| --- | --- |
| Confirmation Number | %%reservation-identifier%% |
| Arrival Date | %% reservation-arriving-date%% |
| Arrival Time | %%arrival-time%% |
| Departure Date | %% reservation-departing-date%% |
| Departure time | %%departure-time%% |
| Arrival Date - Long Format | %% reservation-arriving-date-long%% |
| Departure Date - Long Format | %% reservation-departing-date-long%% |
| Number Nights | %% reservation-number-nights%% |
| Room Number | %%reservation-room-number%% |
| P.O Number | %%po-number%% |
| Folio Number | %%folio-number%% |
| Room Type Description | %%room-type-description%% |
| Room Description | %%room-description%% |
| Room Number | %%room%% |
| Number Adults | %%reservation-number-adults%% |
| Number Children | %% reservation-number-children%% |
| Number Infants | %% reservation-number-infants%% |
| Package Name | %%package-name%% |
| Source | %%source%% |
| Company Name | %%company-name%% |
| Booking Comments | %%booking-comments%% |
| Cancellation Number | %%cancellation_number%% |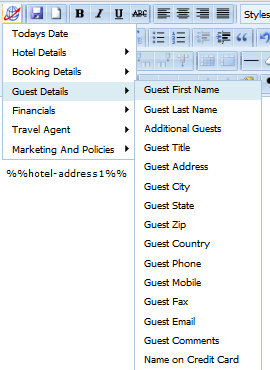 Example of Merge Fields in Letter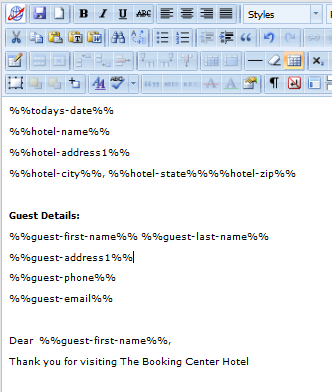 Guest Details
| Merge Field | Identifier |
| --- | --- |
| Guest First Name | %%guest-first-name%% |
| Guest Last Name | %%guest-last-name%% |
| Guest Title | %%guest-title%% |
| Guest Address | %%guest-address1%% |
| Guest City | %%guest-city%% |
| Guest State | %%guest-state%% |
| Guest Zip | %%guest-zip%% |
| Guest Country | %%guest-country%% |
| Guest Phone | %%guest-phone%% |
| Guest Mobile | %%guest-mobile%% |
| Guest Fax | %%guest-fax%% |
| Guest Email | %%guest-email%% |
| Guest Comments | %%guest-comments%% |
| Name on Credit Card | %%name-on-credit-card%% |
| Credit Card Number | %%credit-card-number%% |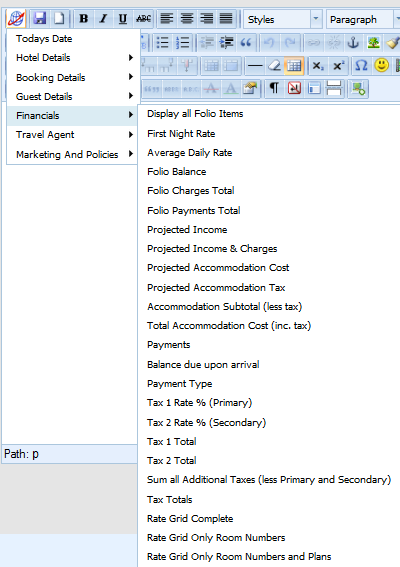 Financials
| Merge Field | Identifier |
| --- | --- |
| Display all Folio Items | %%write-folio%% |
| First Night Rate | %%reservation-firstnightrate%% |
| Average Daily Rate | %%average-daily-rate%% |
| Folio Balance | %%folio-balance%% |
| Folio Charges Total | %%folio-charge-total%% |
| Folio Payments Total | %%total-payments%% |
| Projected Income | %%total-cost%% |
| Project Income & Charges | %%projected_income_charges%% |
| Projected Accommodation Cost | %%projected-accommodation-cost%% |
| Projected Accommodation Tax | %%projected-accommodation-tax%% |
| Accommodation Subtotal (less tax) | %%total-accommodation-cost%% |
| Total Accommodation Tax | %%total-accommodation-tax-cost%% |
| Payments | %%folio-charge-payments%% |
| Balance due upon arrival | %%balance-due%% |
| Payment Type | %%payment-type%% |
| Tax 1 Rate % (Primary) | %%main-tax%% |
| Tax 2 Rate % (Secondary) | %%main-tax2%% |
| Tax 1 Total | %%tax1-total%% |
| Tax 2 Total | %%tax2-total%% |
| Sum of all additional Taxes | %%additional-tax-total%% |
| Tax Totals | %%total-taxes%% |
| Rate Grid Complete | %%full-daily-rate-grid%% |
| Rate Grid Only Room Numbers | %%full-daily-rate-grid-w-room-number%% |
| Rate Grid Only Room Numbers and Plans | %%full-daily-rate-grid-w-room-number-rate-plan%% |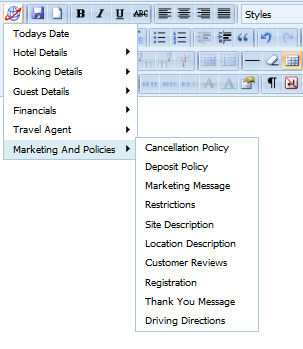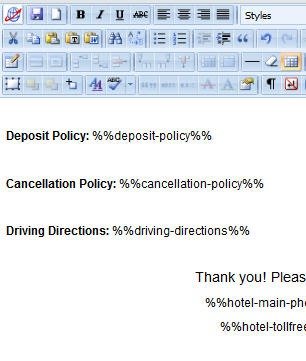 Marketing and Policies
| Merge Field | Identifier |
| --- | --- |
| Cancellation Policy | %%cancellation-policy%% |
| Deposit Policy | %%deposit-policy%% |
| Marketing Message | %%marketing-message%% |
| Retrictions | %%restrictions%% |
| Site Description | %%description%% |
| Location Description | %%location-description%% |
| Customer Reviews | %%customer-reviews%% |
| Registration | %%registration%% |
| Thank you Message | %%thank-you-message%% |
| Driving Directions | %%driving-directions%% |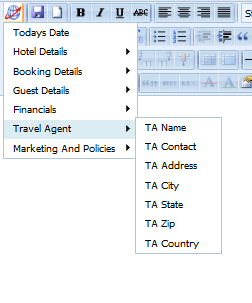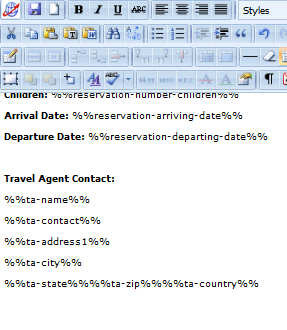 Travel Agent Details
| Merge Field | Identifier |
| --- | --- |
| TA Name | %%ta-name%% |
| TA Contact | %%ta-first-name%% |
| TA Address | %%ta-address1%% |
| TA City | %%ta-city%% |
| TA State | %%ta-state%% |
| TA State Code  | %%ta-state-code%% |
| TA Zip | %%ta-zip%% |
| TA Country | %%ta-country%% |