How to use Merge Fields: To create or edit any letter, go to Setup | Parameters | Letters. See Add Letters and, Customize and Edit Letters. To set up Automated Emails, see Auto Letters Setup. To start using Merge Fields: 
Open Letter: choose the Letter you want to edit by clicking on the Letter I.D. The Letter will open in an Editor

 

Editor Toolbar: The toolbar at the top has many features you can use to customize your Letter including Merge fields used to place booking, financial and guest information from your records and transactions.

 

BookingCenter "globe" icon: To see a list of merge fields, click on the the  in the top left corner of the editor.
To insert the value of the merge field you want, place your cursor at the location in Letter you want it to appear. Then, click on the desired value from the merge fields list
To change or edit your Merge fields in the Letter, highlight the field and click on the BookingCenter "globe" icon in the top-left of the editor. Choose the new field from the drop down menu and it  will replace the highlighted field. 
---
Merge Fields available for Group Letters. See below for details on each field.
The tables below lists all current variables that may be used in creating letter templates. Click on each title to see Merge Field details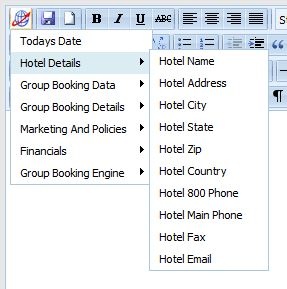 Example of Merge Fields in Letter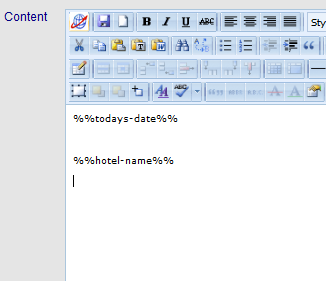 Date
| Merge Field | Identifier |
| --- | --- |
| Today's Date | %%todays-date%% |
Hotel Details
| Merge Field | Identifier |
| --- | --- |
| Hotel Name | %%hotel-name%% |
| Hotel Address | %%hotel-address1%% |
| Hotel Address2 | %%hotel-address2%% |
| Hotel City | %%hotel-city%% |
| Hotel State | %%hotel-state%% |
| Hotel Zip | %%hotel-zip%% |
| Hotel Country | %%hotel-country%% |
| Hotel 800 Phone | %%hotel-tollfree-phone%% |
| Hotel Main Phone | %%hotel-main-phone%% |
| Hotel Fax | %%hotel-main-fax%% |
| Hotel Email | %%hotel-email%% |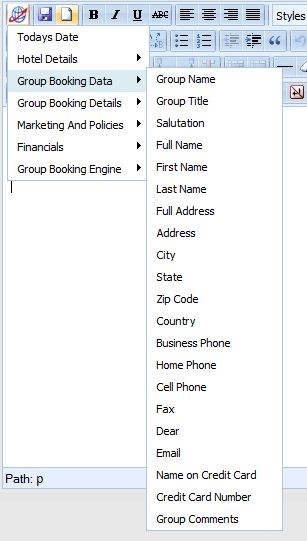 Example of Merge Fields in Letter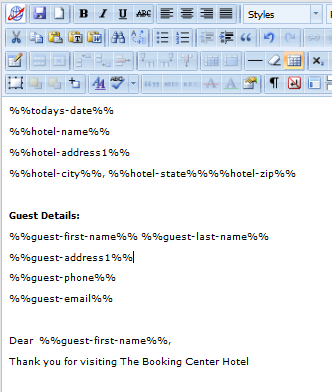 Guest Booking Data
| Merge Field | Identifier |
| --- | --- |
| Group Name | %%group_name%% |
| Group Title | %%group_booking_title%% |
| Full Name |   |
| First Name | %%guest-first-name%% |
| Last Name | %%guest-last-name%% |
| Full Address | %%guest-title%% |
| Address | %%guest-address1%% |
| City | %%guest-city%% |
| State | %%guest-state%% |
|  Zip | %%guest-zip%% |
| Country | %%guest-country%% |
| Business  Phone | %%work-phone%% |
| Home Phone | %%home_phone%% |
| Cell | %%cell_phone%% |
| Fax | %%guest-fax%% |
| Dear | %%dear%% |
| Email | %%email%% |
| Name on Credit Card | %%name-on-credit-card%% |
| Credit Card Number | %%credit-card-number%% |
| Group Comments | %%group-comments%% |
Group Booking Details
Merge Field
Identifier

Confirmation Number

%%reservation-identifier%%

Status
 

%%status%%

Source

%%group_source%%

Market

%%market_name%%

Arrival Date

%% reservation-arriving-date%%

Departure Date

%% reservation-departing-date%%

Company Name
%%company-name%%
Travel Agent

%%travel_agent%%

Booking Comments
%%booking-comments%%
Rooming List (terse)


%%room-list%%

Rooming List (verbose)


%%room-list-verbose%%

Group List Count

 

%%group_count%%

Cancellation Number
%%cancellation_number%%
Marketing and Policies
| Merge Field | Identifier |
| --- | --- |
| Cancellation Policy | %%cancellation-policy%% |
| Deposit Policy | %%deposit-policy%% |
| Marketing Message | %%marketing-message%% |
| Retrictions | %%restrictions%% |
| Site Description | %%description%% |
| Location Description | %%location-description%% |
| Customer Reviews | %%customer-reviews%% |
| Registration | %%registration%% |
| Thank you Message | %%thank-you-message%% |
| Driving Directions | %%driving-directions%% |
Financials
| Merge Field | Identifier |
| --- | --- |
| Projected Income | %%total-cost%% |
| Project Income & Charges | %%projected_income_charges%% |
| Projected Accommodation Cost | %%projected-accommodation-cost%% |
| Projected Accommodation Tax | %%projected-accommodation-tax%% |
| Group Revenue | %%group-revenue%% |
| Balance due upon arrival | %%balance-due%% |
| Folio Balance | %%folio-balance%% |
| Folio Charges Total | %%folio-charge-total%% |
| Folio Payments Total | %%total-payments%% |
| Display all Folio Items | %%write-folio%% |
| Tax 1 Rate % (Primary) | %%main-tax%% |
| Tax 2 Rate % (Secondary) | %%main-tax2%% |
| Tax 1 Total | %%tax1-total%% |
| Tax 2 Total | %%tax2-total%% |
| Sum of all additional Taxes | %%additional-tax-total%% |
| Tax Totals | %%total-taxes%% |
Group Booking Engine

| Merge Field | Identifier |
| --- | --- |
| User ID | %%reservation-identifier%% |
| Password | %%password%% |
| Group Booking Engine |   |
---
Note: