Skip to end of metadata
Go to start of metadata
To Add, Edit or Delete Rooms go to, SETUP | RATES | ROOMS.
The default screen opens to the Rooms List where you will see all of the Rooms you have available. Each individual Room in your property is assigned to a Room Type providing the inventory for the room type. 
All Rooms must be linked to a Room Type. If you need to add a new Room Type, see Room Types.
The Rooms added here will be listed on the Tape Chart and be available for booking at the Front Desk and through any distribution channel (MyPMS, Website bookings, GDS, etc) to which the corresponding Room Type is allocated. See Room Type and Rate Plan Allocations.
For example, if Rooms 101, 102 and 103 are Queen Rooms and sold at the same Rate, then all three of those rooms would be assigned to the QUEEN Room Type and will be sold at the Rate Plan assigned to the QUEEN Room in Agent Allocations. Remember, all Rates are assigned to Room Types, not Rooms. See Room Type and Rate Plan Allocations.
To assign a Room to a Room Type, Add a Room or Click on the Room ID to edit the room information.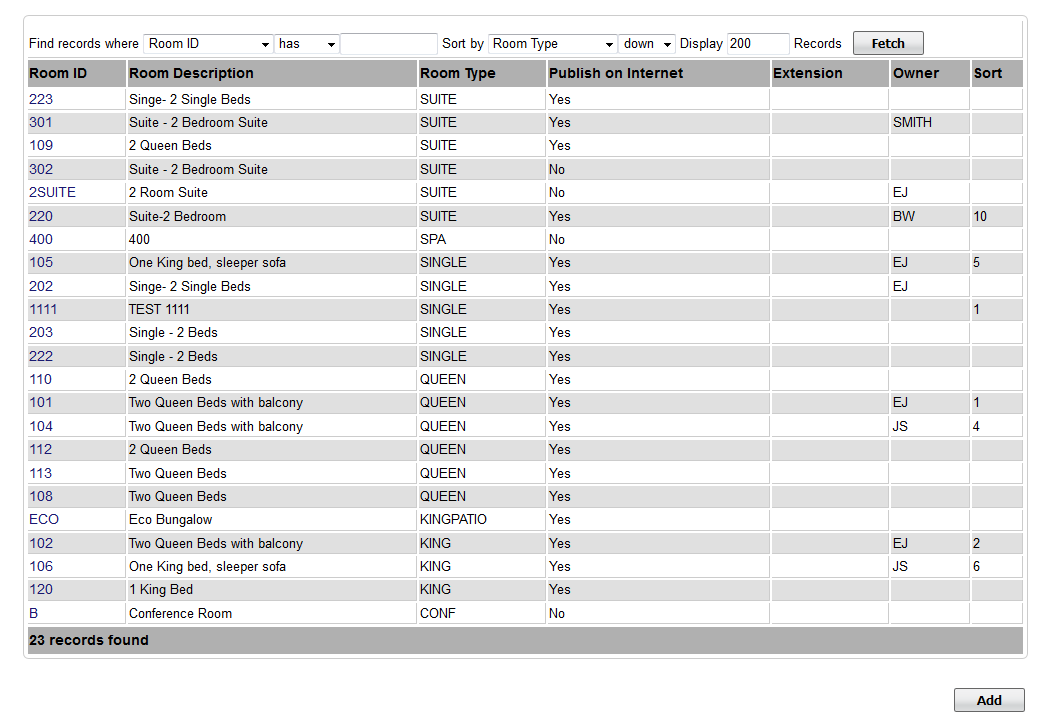 Then choose the Room Type from thedrop downmenu in the top of the right column and click Save.