Skip to end of metadata
Go to start of metadata
?This will set up the different types of extras your property may offer (i.e. Food, Alcohol, Bike Rental).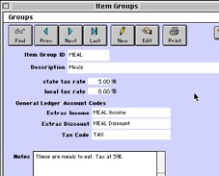 Choose Parameters from the BookingCenter menu (or + U) and select Item Groups from the Inventory drop down list to display the Item Groups window.






Item Group ID Enter a unique ID to identify this item group.
Description Enter the description for this item group.

Tax rate Enter the overall tax rate to apply to all items in this item group. This may be different from the room tax rate you set up in the Accounting and Tax Configuration.
Service chg rate Enter the overall Service chg rate to apply to all items in this item group.
General Ledger Codes If yoou chose 'Use Account Group Codes' from the Tax & Accounting section, then enter the codes
being used by your General Ledger (G/L) system for the Items sold exactly how it is entered into the G/L
system so that when BookingCenter exports sales, discounts and tax events for the sale of these Items,
they are appended to the right category in the G/L system.
Notes Enter any notes on this item group.