his report generates information on all your guests as you define it.
1. Click on the Reports button from the Home window. The Reports window will be displayed.
2. Click on the Guests button. The Select Guest Search window will be displayed.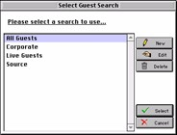 Note If there are no searches available you will be immediately prompted if you wish to create a new search. Click 'Yes' to continue. You will then be presented with the Edit Search window.
Tip The guest searches correspond to the guest searches you set up when using the Marketing feature (See "Working with Guest Marketing" on page cxxi) .
Editor's Note: The Guest Marketing featurte is powerful and should be used by all properties to develop relationships and communicate with past guests.
3. Select the desired report and click Select button:
• Summary - This report will generate a list of guests with general data.
• Details - This report will generate a list of guests with all the guest details
• Labels - This will generate mailing labels for all your guests
• Letters - This will merge guest names and addresses into form letters that you setup (See "Setting
up Letters" on page liii) .
4. Select the report destination.
Tip Select Screen instead of Printer if you want to preview the report before printing.
5. Click on the Print button to display the Sort Selections window for the chosen Guest report.
6. Select your sorting and sub-totalling options.
Note The overall data will be grouped by your selection forSort & subtotal by. . . with each individual grouping (subtotal) ordered by your selection forthen sort by . . .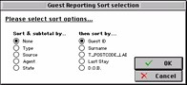 7. Click OK to generate the report.
Example: A Summary report sorted by Agent and then by Surname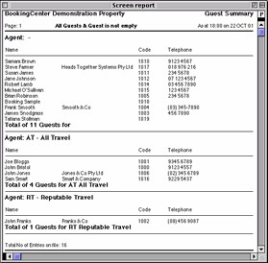 #trackbackRdf ($trackbackUtils.getContentIdentifier($page) $page.title $trackbackUtils.getPingUrl($page))